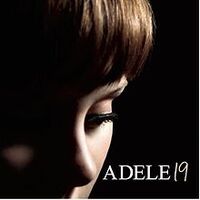 19 is the first studio album by Adele.
Main details
Edit
Title: 19
Artist: Adele
Release: January 2008
Genre: Pop, soul, rock, R&B
Length: 44 min
Country: United Kingdom
Recorded: 2006-2007, at Compass Point Studios
Labels: XL, Allido, Columbia
Producers: Jim Abbiss, Mark Ronson, Eg White
Writers: Adele, Eg White, and 2 more
Music: Freddie Mercury, Brian May, and 6 more
Chronology
Edit
Studio albums
Edit
Previous: -
Next: 21 (2011)
Ad blocker interference detected!
Wikia is a free-to-use site that makes money from advertising. We have a modified experience for viewers using ad blockers

Wikia is not accessible if you've made further modifications. Remove the custom ad blocker rule(s) and the page will load as expected.